Tips for a Skype / Video Interview Part II
Part II in our series of Skype/video communications continues with suggestions on being mindful of gestures behind the camera, your appearance, and finally tone and communication. Let's get started!
GESTURES
In face- to-face interactions, gestures at mid chest or lower are always visible, however on video you must lift your hands to appear in the frame but not to cover your face. Your gestures need to enhance your message and should illustrate what you are saying during the meeting or interview rather than any non-specific circular hand and wrist movements that communicate waffling or a lightweight message.
On screen, hands must be contained in a smaller space than in person. Keep your hand gestures inside an imaginary box that extends no higher than your collar bone, within the sides of the body and down to the lower chest. Curved movements denote an approachable and flexible mindset so think of the box also as a ball in the same space. Your fingers gently curve around the sides of the ball. Avoid "steepling", with fingertips touching in a triangle and held at mid chest, which communicates a negotiation or confrontation display. To reinforce each of three (maximum) related comments, count on each finger as you elaborate each point.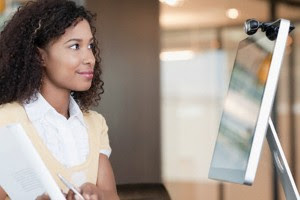 APPEARANCE
It's important to realize that the screen view is two-dimensional showing the face, hairstyle and top of body as a silhouette. Select clothing that would be appropriate to you the specialist, or the position, or the company brand, such as well defined lines and clothing with excellent fit. Both men and women should avoid wide stripes, large geometric patterns, black and white combinations, large prints and exceptionally bright colors all of which can flare under bright lights and distract on-screen. Another gaffe is to wear rumpled, creased clothing which can signify that you don't pay attention to details. Make sure the outfit isn't the same color as the background as you will disappear!
Tips for Men
It is always wise to ask what the dress code is and if no tie would be appropriate or if the tie is expected. A dark or mid blue wool jacket always looks professional especially if the lapels lie flat over the chest. If no tie is worn, make sure the shirt collar is crisp and frames your neck. If a tie is worn, choose a straight collar which gives a crisper line, rather than a button-down which can tug and buckle over the tie. The tie must fit neatly under the collar sporting a dimpled knot and a slight arch away from the chest.
Tips for Women
Your clothing has a few more challenges than the male uniform! Ladies, avoid dangling or oversized earring and large pendants that are distracting as is noisy jewelry such as a collection of bangles. Simple pearls and soft metal chains are best. Navy and blue are traditional interview colors for jackets but you can also try taupe, dark beige, brown, mid grey, forest green, olive, spicy shades or teal, which are  camera friendly and professional. Wear warmer tones close to the face, such as coral, shrimp, salmon, gold, cream and ivory as they come over as friendly on a screen. Makeup should enhance the features not overpower them: eyeshadow in light, neutral shades, a warm, soft blush just to add color, thin eyeliner and a medium shade lipstick are often enough.  Mascara on the top lashes opens up the eye but avoid heavy mascara and dark eyeshadows below the eye.
For a work interview, play safe and wear tailored clothing such as a blazer or jacket that fits and enhances your shape. The screen tends to add pounds and it's best to avoid soft or bulky fabrics, loose or unconstructed styles and many layers. Do not show cleavage, bare arms or sleeveless dresses to expose your upper arms or underarms. Necklines on shirts and blouses to mid chest length help extend your neck length and are more flattering than stiff, high collars, Chinese collars and turtlenecks as they cut off your head and shorten your neck visually. The inside collar or neckline should fit or match the outside neckline and not fight with it.
Hair should be neat but on the other hand, don't scrape your hair back into a bun as two- dimensionally your face might appear too big in comparison with your visible hair and your head can also appear out of proportion with your shoulders. If in doubt, think of a typical news anchor hairstyle. If you wear hair tied back, have hair framing, not hiding the face and show some neck, jaw line and cheekbones which are very attractive lines on the screen.
TONE AND COMMUNICATION
Your tone of voice is all-important in any meeting and a lower tone is more confident and credible than high registers. Slow down your pace and articulate clearly, especially when emphasizing an important point. You betray nervousness or lack of preparation when rambling or telling lengthy stories and frankly people aren't listening. Practice your points or examples as 30 second sound bites. Unless asked, leave out the internal monologue such as how you or others felt about a situation. Avoid um's or swear words, fillers and clichéd phrases.  Ask questions, listen attentively and never interrupt